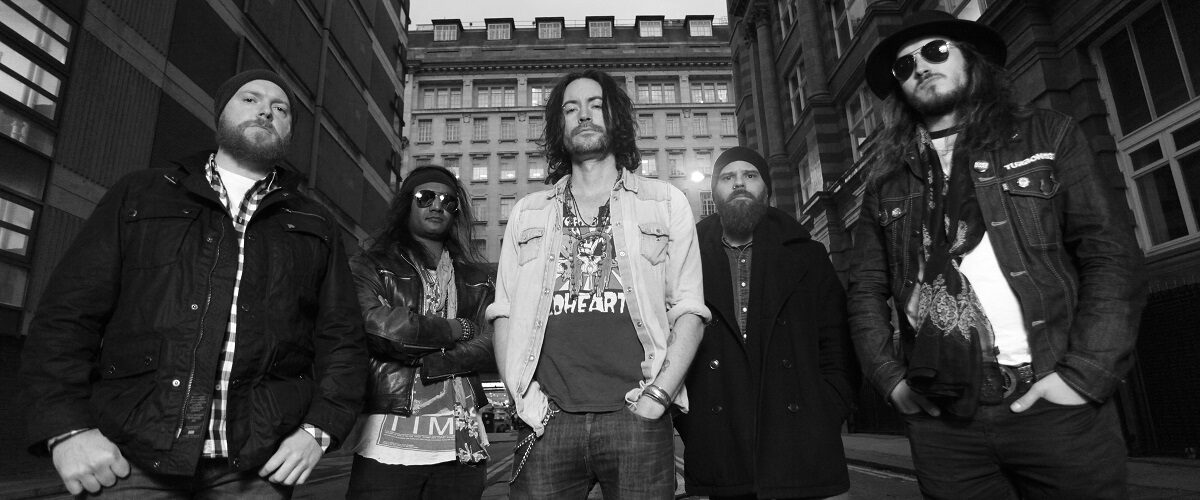 Gorilla Riot es una máquina de RockBlues sucio y fangoso. Banda formada por 5 miembros de Manchester (Inglaterra) que tocan un Rock estridente basado en el Blues más sucio, combinando elementos de Grunge, Stoner y Country para crear un espectáculo de Rock de alta energía en directo.
Formada en origen por su frontman, Arjun Bhishma, se rodeó del mejor talento de Manchester para formar a los Gorilla Riot, creando un frente de ataque con tres potentes guitarras plenas de varias armonías, lo que la convierte en una banda de primer nivel. Ya sea tocando en casa, de forma acústica o en eléctrico a todo volumen, Gorilla Riot consigue un impresionante sonido.
Arjun Bhishma y su banda comenzaron a escribir canciones y pronto ingresaron en estudio para grabar su álbum debut homónimo en 2013. Les siguió su segundo trabajo sin demora 'Eve Tapes Live' en 2014. Se colocaron rápidamente en su propio camino para ofrecer un sonido sucio empapado de blues que se materializó en su aclamado EP en Reino Unido, 'Six Shots Down' en 2017. No tardaron en lanzarse a por su próximo trabajo de estudio en mayo de 2018. El resultado, 'American Honey Vol.1' se traduce en un ferviente disco que ve cómo estos chicos amplían su destreza de sonido y escritura con 3 nuevas canciones más un exquisita reelaboración de su exitosa canción, Last Hymn.
Bad Son, fue seleccionada en Track Of The Week by Classic Rock Magazine
Down The Road, consiguió ganar en Track Of The Week by Classic Rock Magazine
Gorilla Riot ya han participado en el famoso festival Ramblin Man Fair en el Rising Stage tras conseguir el voto del público para participar.
«Una de las mejores nuevas bandas de rock en Reino Unido ahora mismo» – Ramblin Man Fair
"Afilada y arrogante banda de Rock! Gorilla Riot, ha devuelto la distorsión a favor de la combinación atmosférica de capas acústicas, florituras eléctricas y de voces. Exuberante guitarra solista también». – Classic Rock Magazine
Discografía: Gorilla Riot LP (2014), Eve Tapes Live EP (2014), Six Shots Down EP (2016), American Honey EP (2018)
Tras una primera y exitosa gira por España en Abril de 2019, Gorilla Riot volvían a los escenarios españoles de la mano de Dwaves Events en Octubre de 2020, pero la pandemia se llevó por delante su gira. Volverán con nuevo trabajo, 'Peach' LP (2020). Gorilla Riot representa con creces a la nueva generación del BluesRock británico, sin duda.
Gorilla Riot son: Arjun Bhishma (voz/guitarra), Liam Henry (guitarra/voz), Charly T. (guitarra/voz), James Degnen (bajo), David Thomas (batería)
Total Page Visits: 2226 - Today Page Visits: 1