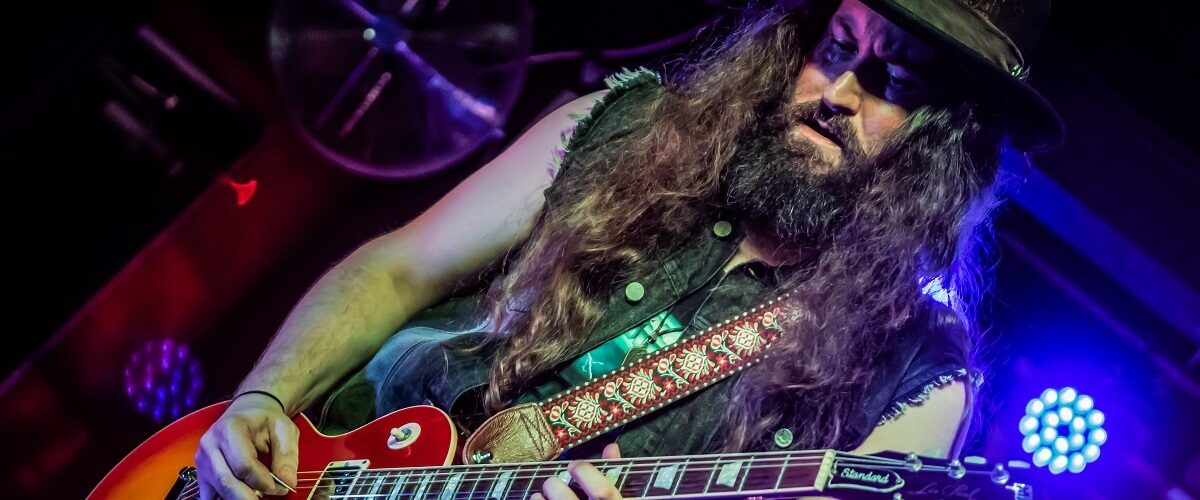 Jack J Hutchinson es un guitarrista y cantante compositor residente en Londres. Descrito por la revista Classic Rock Blues como «Nacido para cantar Soul y Blues «, en 2015 y 2016 fue nominado para los British Blues Awards.
Hutchinson nació en 1982 en Leicester, pasó sus años de formación musical en el noroeste de Inglaterra antes de mudarse a Londres en 2005. Ha compartido el escenario con algunos de los músicos de blues más conocidos de la actualidad, incluyendo Boom Band, con Matt Taylor, Marcus Bonfanti y Paddy Milner. También ha apoyado al Dr. Feelgood, Ian Siegal y Big Boy Bloater.
Su trabajo de estudio incluye la grabación en Universal y Miloco Studios London. Hutchinson también tocó recientemente tres veces en el BluesFest en el O2, un proyecto que también contó con Jeff Beck, Bad Company y Van Morrison.
Hutchinson ha publicado hasta la fecha en solitario 'Feathers and Fools' y 'Paint no Fiction', más dos EP 'Get It Back' y 'Unplugged', ambos incluidos en la lista de iTunes Blues. También ha entrado en las listas de éxitos de Amazon Blues. Con fanáticos seguidores en todo el planeta como Australia, Suecia, Alemania, Japón, España y Canadá comprando sus discos.
Seis de sus canciones ya han aparecido recomendadas en la revista Classic Rock Blues. También ha aparecido regularmente en el Top 40 de blues de IBBA, recibiendo aclamaciones y críticas positivas de publicaciones como Blues In Britain y la revista Blues Matters. También aparece en Krossborder Rekords Best Of British Blues Vol. 2.
Su nuevo trabajo 'Who Feeds The Wolf' que saldrá en el próximo mes de octubre ya está recibiendo increíbles críticas por los medios especializados de Reino Unido.
Jack J. Hutchinson ha realizado ya dos giras anteriormente por España. Su primera visita fue el pasado año en el mes de Abril presentando su disco 'Paint no Fiction' obteniendo un éxito abrumador en todos los conciertos realizados, un total de 11 fechas. Su segunda visita en el mes de Marzo de este año fue en formato acústico realizando un total de 6 fechas por Galicia.
Regresó a España para realizar 14 conciertos, con su nuevo trabajo 'Who Feeds The Wolf' en Noviembre de 2019.
Ahora vuelve en formato acústico con su banda en Octubre de 2021 tras la pandémia.
Lo que la prensa ha comentado de Hutchinson:
«Duro, inmediato y rockero'. Hutchinson nació para cantar Soul y Blues». (Revista Classic Blues Rock)
«Todo lo que hace es bueno sobre la música blues moderna». (Blues in Britain magazine)
«Muy, muy bien. ¡Hutchinson está levantando una tormenta! «(Paul Jones, BBC Radio 2)
«Una obra desgarradora dirigida por el fino trabajo de guitarra de Hutchinson y unas voces abrasadoras». (Revista Wasser-Prawda)
«Hutchinson existe como un eco simultáneo del pasado y vislumbra el futuro. Con la reactivación de los vendajes de la Jam moderna, tanto en los Estados Unidos como en el Reino Unido, la capacidad de Hutchinson para alternar entre cantante/compositor y músico sobre el escenario en directo le da una ventaja sobre otros artistas «. (Blues Rock Review)
Total Page Visits: 1787 - Today Page Visits: 2