DWAVES EVENTS PRESENTA A JACK GRELLE (USA) EN EL BULE BULE DE ALLARIZ EL SÁBADO 2 DE FEBRERO A LAS 13:30H.
«Got Dressed Up to Be Down», es el álbum publicado en octubre del 2016 por el cantante Country de St. Louis (USA) Jack Grelle, dibuja una imagen de la verdadera Americana variada y profunda. Esculpido en gran parte por el honky-tonk de los años 70, el álbum, a través de diversas influencias tales como cajún, tejano, rock & roll y folk, interpreta apasionadamente estos sonidos clásicos. Las canciones están cuidadosamente elaboradas con colaboraciones de otros músicos, incluyendo al South City Three (Pokey LaFarge) y John Horton (The Bottle Rockets). Y se pueden disfrutar de arreglos de pedal Steel, piano, violín y armónica.
La capacidad de Jack para viajar por este género es un testimonio de la urgencia e inquietud de su arte. Este espíritu errante le ha llevado a más de 13 países y 3 continentes con itinerarios de gira que promedian 150 conciertos al año. Ha compartido escenario con Joe Ely, Billy Joe Shaver, Chris Stapleton y Pokey Lafarge.
LaFarge, que personalmente invitó a Grelle a abrir sus conciertos muchas veces, se refirió a Jack como «poeta del medio oeste» y «un hombre renacentista atemporal». Jack también ha disfrutado de la oportunidad de juntarse con Dale Watson and his Lonestars.
El nuevo álbum de Grelle pasa del vals al two-steps y al rock, y el conocimiento y la inteligencia en sus letras siguen siendo coherentes. Las canciones de Jack van desde los temas celebrando la vida de su recientemente fallecida abuela hasta un romance en Sudamérica y muestra una integridad y valor que reflejan su educación punk rock abordando temas como la libertad en la feminidad y la tragedia de asesinatos policiales que asolan a la comunidad afroamericana.
Jack Grelle es un artista fuerte e idealista que no acepta limitaciones. Estas cualidades recientemente lo llevaron a salirse de su rol normal cuando montó una banda de acompañamiento para recorrer el Medio Oeste Americano con los Lavender Country de Patrick Haggerty, un activista por los derechos de los homosexuales que hizo el primer álbum country gay del mundo. El impulso de Jack Grelle lo conduce continuamente a nuevos desafíos, y él supera constantemente las expectativas. Con un nuevo álbum potente y unas cuantas fechas de su gira, Jack Grelle está preparado para nuevos horizontes y más allá.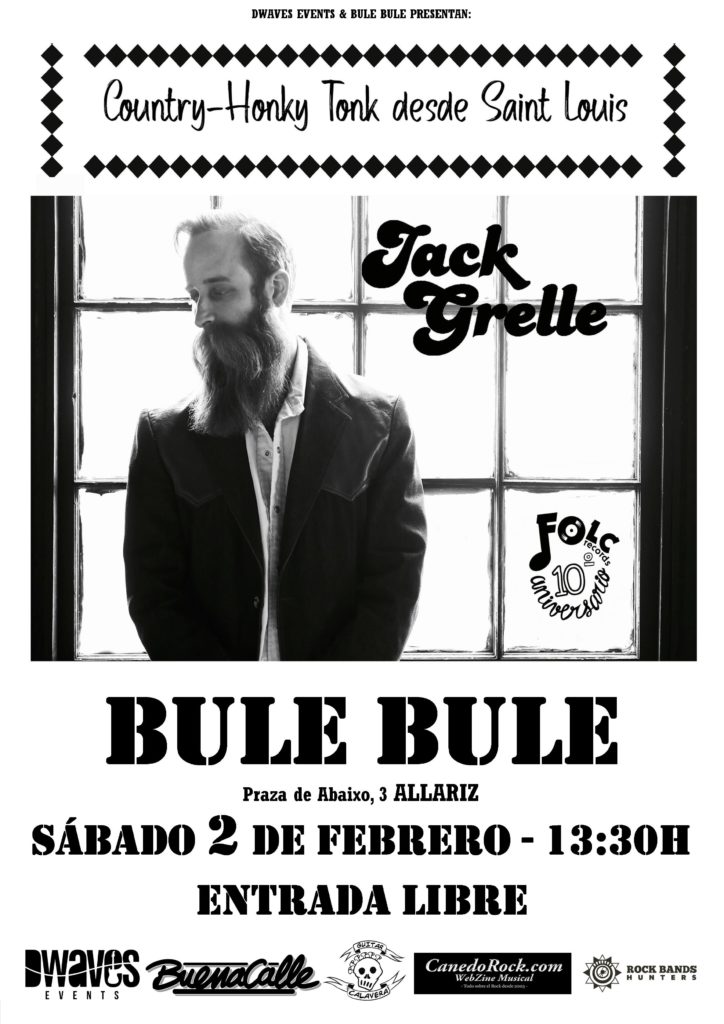 Total Page Visits: 1943 - Today Page Visits: 1