Rythm&Blues / Rock'n'Roll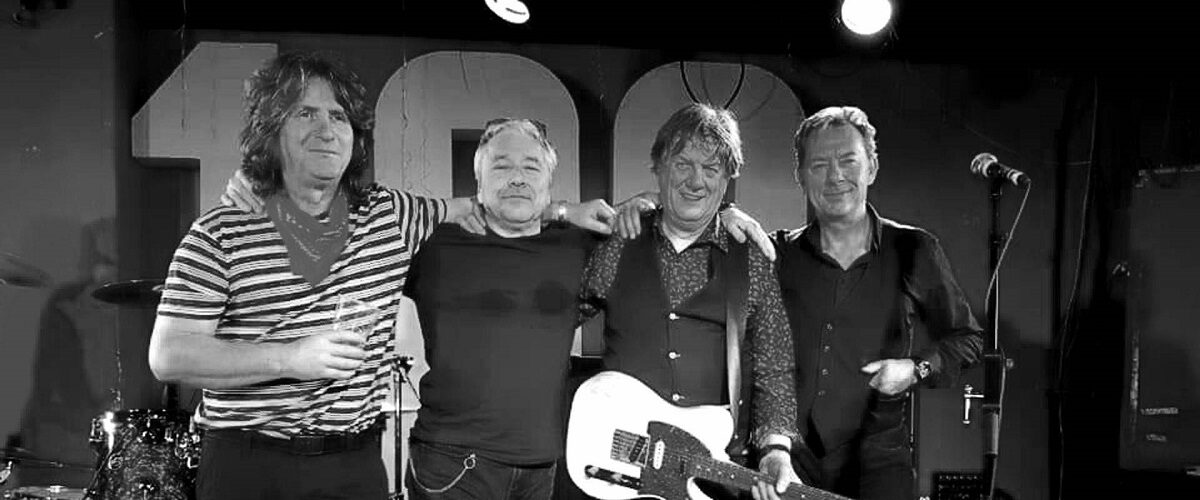 The Sharpeez es una banda con sede en Londres, formada por las cenizas de la banda de los años 70 Rebel, en ese momento The Sharpeez eran Bill Mead, Peter Goodey y John Smith hasta que la banda suspendió las actividades en 1984, durante un período de descanso de veinte años. Bill volvió a convocar a la banda en 2003, pero esta vez con Baz Payne en el bajo, Spencer Blackledge en la batería y por supuesto Bill Mead tocando la guitarra y la voz principal. El núcleo de la banda suele verse aumentada durante las giras y actuaciones en directo.
La banda disfruta de un calendario de giras muy concurrido en todo el Reino Unido y Europa, es frecuentemente descrita por Peter Feenstra como «la banda de giras más ocupada en Europa». Su álbum ' Mississippi Thrill ' llegó al nº 9 en junio de 2014 gráfico en las lista de IBBA (Independent British Blues Association).
Están realmente impregnados de influencias musicales como, Rory Gallagher, Tom Petty, Robert Plant, Dr. Feelgood, George Thorogood, Free, Bad Company.
Miembros de la banda:
William James Mead (fundador, compositor y voz): Bill tiene una larga trayectoria como compositor y escritor. Lanzó su primer single ' Rocka Shocka' con una banda llamada Rebel que llegó a tocar en la mayoría de los prestigiosos lugares alrededor de Kent y Londres durante los 70′s y principios de los 80's. Formó a Sharpees en 1980. Escribió y grabó un álbum llamado 'Strangers in New York', que fue lanzado por Red Admiral Records. Su siguiente álbum llamado 'Open for Surgery' fue grabado en 2011 y el último álbum llamado 'Mississippi Thrill', fue grabado y lanzado durante 2014. En 2017 Bill cambió el nombre de la banda a The Sharpeez.
Loz Netto (guitarra) es músico, compositor, vocalista, guitarrista, tecladista, productor, ingeniero programador y cineasta. Loz Netto comenzó su carrera profesional con apenas 17 años tocando la guitarra para Ben 'E' King ex vocalista de The Drifters, luego se unió a la banda de Soul/Funk de culto Moon como guitarrista y compositor recorriendo Reino Unido y Europa. Mas tarde pasó a convertirse en miembro fundador de la banda Sniff'n'The Tears, que tuvo un éxito mundial premiado con la canción 'Drivers SEAT' del aclamado álbum 'Fickle Heart' , el tema todavía suena a día de hoy en la BBC Radio 2 , en toda Europa y los Estados Unidos.
Steve Browning (bajo) excelente músico ex miembro de la banda Pretty Things y de Robert Plant, con una dilatada carrera musical, ha formado parte de la escena musical británica de las últimas décadas. Reconocido bajista a nivel internacional sigue actuando sin descanso acompañando a músicos de alto nivel y a The Sharpeez.
Clive Edwards (batería) es probablemente el más conocido de la banda por tocar junto a guitarristas sobresalientes como Pat Travers, Brian Robertson, Uli Jon Roth, Bernie Marsden, John Cale, Dennis Stratton y Laurence Archer. Exmiembro de bandas de la talla de UFO o Lion Heart, simplemente incuestionable su trayectoria a la percusión.
Juntos forman un equipo de increíble calidad musical, y ya estuvieron de gira por España como The Sharpeez en septiembre de 2019, presentando su último trabajo que salió a escena en 2018 "Wild One".
Total Page Visits: 1541 - Today Page Visits: 1